Parker Dam on the Parker Strip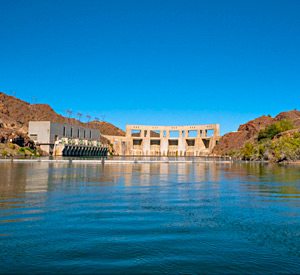 Parker Dam is located on the famous Parker Strip on the Colorado River.
What you see is not what you get at Parker Dam, known as "the deepest dam in the world." Engineers, digging for bedrock on which to build, had to excavate so far beneath the bed of the Colorado River that 73 percent of Parker Dam's 320-foot structural height is not visible. Its reservoir, Lake Havasu, is a different matter. Its deep blue water stretches for 45 miles behind the dam, creating an oasis in the Arizona desert and a modern marvel that connects Lake Havasu with the Parker Strip on the Colorado River.
Parking lots on either side of the dam provide good viewing. The dam is closed to tours, but ask a guard for a brochure.
What our Campers are saying…
[testimonials_cycle timer="15000″ transition="fadeOut"]