London Bridge Lake Havasu City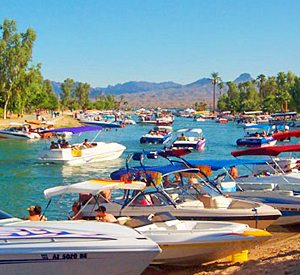 Famous London Bridge in Lake Havasu City
In 1967, the Common Council of the City of London began to look for potential buyers for the London Bridge. Lake Havasu City founder and entrepreneur Robert P. McCulloch placed the winning bid of $2,460,000 on April 18, 1968. McCulloch came by this figure by doubling the estimated cost of dismantling the structure, which was $1.2 million, bringing the price to $2.4 million. He then added on $60,000 – a thousand dollars for each year of his age at the time he estimated the bridge would be reconstructed in Arizona. Each block was meticulously numbered before the bridge was disassembled. The blocks were then shipped overseas through the Panama Canal to California and trucked from Long Beach to Arizona. Following reconstruction of the London Bridge, Lake Havasu City rededicated it in a ceremony on October 10, 1971.
The London Bridge, Arizona tourism's second-largest attraction after the Grand Canyon, attracts thousands of visitors each year and is a popular stroll for people on romantic getaways in Arizona.
The Lake Havasu City Visitors Center conducts a 90-minute walking tour of the London Bridge. Arizona tourists can see the strafing scars from WWII that mar the bridge's granite surface and stroll over sparkling Bridgewater Channel. The bridge is also a popular hangout for the Arizona boating crowd and you'll see all kinds of boats anchored in the shadow of this piece of history.
What our Campers are saying…
[testimonials_cycle timer="15000″ transition="fadeOut"]